ExpCarry Blogger
ExpCarry Birthday - 1 Year in Boosting Online Games
We are glad to inform all our customers and colleagues that the ExpCarry project is turning 1 year old! We want to celebrate this event together with you and give you a unique coupon for a 20% discount!
Thanks to our extensive experience in the gaming industry and hard work over the year, we were able to reach new heights and incredible results. The vastness of the service field in online gaming has given us the opportunity to prove ourselves and provide players with a truly high-quality and professional service.
At the moment the ExpCarry team works in such games as World of Warcraft including all its add-ons and also we have recently started our way in New World. And we are not going to stop there, our plan is to expand our range of services and its diversity in other popular online games.
What happened in the first year of our work?

Thanks to our experience with Boosters and our customers, we were able to quickly put our ideas into practice. This allowed us to start fulfilling orders and getting to know you more quickly. We know and understand that not all of our system is working perfectly at the moment, and there are still many loose ends that we won't just let go of. Your feedback always helps us to correct our mistakes and improve the quality of our work.
As of today, our statistics is as follows:
more than 4000 orders completed;
a team of more than 500 employees;
98% positive feedback;
24/7 online support.
Next year, we plan to introduce large-scale innovations, which will greatly improve the already good service and make working with us more convenient and pleasant. We thank all those who have chosen our company, trust us and continue to use our services!
20% discount on all ExpCarry services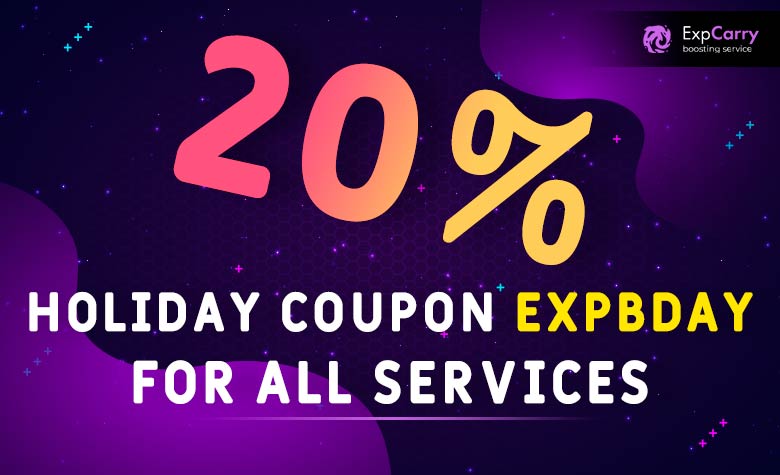 To celebrate the anniversary of the project, our team provides the coupon "EXPBDAY", which gives a 20% discount on all services of the store until 15.11.2021 inclusive. Use the site navigation to find the necessary service and get it in the shortest time and at a very favorable price!
In the near future, a block with promotions will appear on the main page, where you will be able to see all the current discounts and promotions to buy services at the best price.
Cashback on purchases for registered users

Since October 30, 2021, all registered users will receive 5% of the amount of each purchase on your balance in your personal cabinet. With your bonus points, you will be able to pay for part or full of the services you have purchased.
Cashback is credited if you:
have a registered ExpCarry account;
provide a valid email address;
list Discord (or other messengers);
subscribe to the newsletter.
Kindly note that bonus points are credited to you in the currency in which payment is made, and to spend the accumulated points you can only in the same currency. If you still have questions regarding cashback, please contact us in our online chat.
The report on the current order is already on the site!

Now you can track the progress and receive reports on active orders directly in your personal account on the site. By prior arrangement, we will send you a report in the history of your order in the form of screenshots or video recordings. You can also receive order progress via Discord or a convenient messenger.
Start working with new games and additional services

Hasten to please fans of various online games. We will be very actively expanding the range of our work. Very soon you will see more new online games and services on our menu! We are also going to launch a game currency sale. We are carefully studying the market and will try to open really useful services for you. Subscribe to our news and follow the team of professional ExpCarry Boosters on social networks!
Related Product