ExpCarry Blogger
ExpCarry Opened Blog
Who are the ExpCarry and what they do?
Welcome to the blog from the ExpCarry Boosting Company. With the opening of our news feed, we want to bring such thoughts and information to many people:
What is WoW Boosting?
How does it work?
Is it safe to use the service?
As well as important and interesting information on games such as WoW Shadowlands, WoW Classic, WoW Burning Crusade:
guides on classes;
dungeon tactics, raids, and the open world;
choosing the best equipment;
secrets and lifehacks.
As well as a lot of other content, which is unlikely where you can find.
Who are the ExpCarry and what they do?
For those who are not familiar with us or know little about WoW Boosting, tell us a little about our activities.
We are professional players of different video games, and we cooperate with many players who are currently earning by playing their favorite game. Our experience of playing the game lies first in WoW Classic, when everyone played this wonderful game. Gaining experience by spending a huge amount of time it all came to the point where we want to share our experiences and help players who do not have enough time for endless farming, for gold or real money. The large community has given competing prices on the market, and prices for some services are becoming more stable and fair.
Since there are more and more people who want to get the desired items, achievements, ratings and other things, we organize convenient functionality on one site, offer different kinds of services. Of course, without a large team, which now has more than 300 people, it would be impossible to perform all the tasks of the customers. We are trying to bring to our performers to give the service that the client asks for. The development continues, and our team is constantly adding to the list of performers, and with some of them we are leaving, thereby increasing the efficiency and quality of services.
What are our plans for the blog?
With a lot of experience and direct sources of information, we want to share valuable information, which will be useful for every player or find what he was looking for a long time. Creating quality content for our clients is a direct responsibility, so you know what we are talking about and why we charge such a price for this service. Of course, you can contact us directly in the chat and ask any question or suggest an idea for a new post, and we will be happy to consider and review any service.
Bonus of the opening of the blog
If you're reading this news, you're probably interested in our services. Use the "ExpBlog" coupon, which gives you a 7% discount on all services.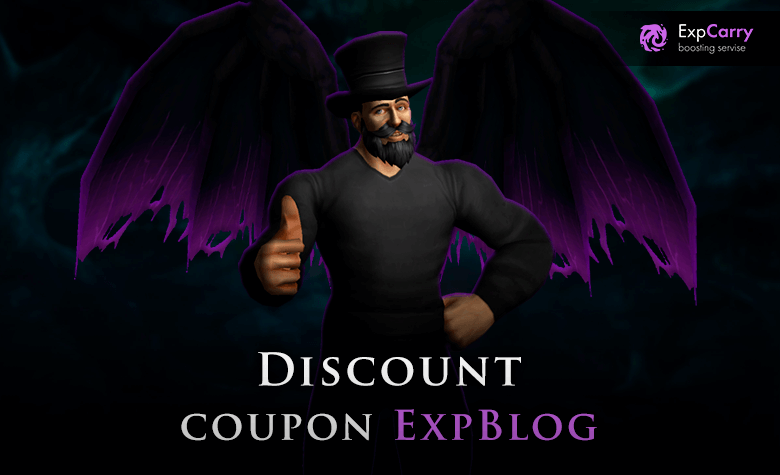 Sign up for our news and keep up with our publications. We prepare a lot of necessary information for any player.
Thank you for being with us.