Gladiator
Product Code: Rated PvP
Availability: In Stock

Achievement Gladiator: Dragonflight Season 2;
Obsidian Gladiator's Slitherdrake Mount;
Title Gladiator.
Character level 70;
450+ average PvP Gear;

Account sharing (only login and password);

Active WoW Dragonflight subscription;

Before a purchase, we recommend you to contact our managers to specify the details of this service.
WoW Gladiator Boost the arena rating in World of Warcraft Dragonflight is a difficult area, one of the hardest tasks in achieving the title. To receive this title, you need to reach a rating of at least 2400 and get 50 wins in the rated arena 3v3 with this rating. For the vast majority of players, this is an almost impossible task, but with the ExpCarry service, nothing is impossible. Our professional multigladiator boosters will help you achieve this challenging goal and get all the related rewards.
On this page, you can buy Gladiator boost in Dragonflight PvP Season 2 from any current rating to 2400. This service is provided only with Account Share. Our professional PvP boosters team is ready to provide you with the best service and fastest order delivery at the lowest price. Any details you can discuss with our live chat manager.
WoW Gladiator Boost in Dragonflight ETA
Your order will be completed before the end of the current PvP season. WoW Gladiator Carry is done as quickly as possible, but in this case, the time depends directly on the gamer's skills. An experienced player may need an hour, taking into account the current rating, or it may take a couple of weeks to get glad.

The level of your character's items and their quality can greatly increase the chances of quick delivery. Choose your item-level gear in the options. If you need to upgrade your equipment, you can use another service on our website or ask our managers in live chat, and only then begin your journey to Gladiator Dragonflight.
How does WoW Gladiator Boost work?
The implementation of these recommendations significantly speeds up the process of obtaining the Gladiator Dragonflight achievement and the corresponding Dragonriding mount. Please read them below:

Gladiator title boost provided only with account sharing. After paying for the order, our manager will inform you to obtain information on your Battle.net account (only login and password). We require an email code or an authenticator to confirm login to your account.
Your account will not be used all day, so be sure to check the booster schedule or state your desired game time. This information will help us use your account safely and prevent you from being kicked out of the game;
For your order to go to work quickly, you need to have the actual item level for your equipment, also characters require a lot of versatility, top legendary for your class, and specialization. If you're in doubt about your character or need help, please contact our live chat support;
WoW Gladiator Dragonflight boost price depends on your current rating and the desired execution speed. Please select the required parameters using the options, it's very easy;

If you want to get WoW Gladiator boost self-play, we can offer you to use the coaching, hourly push service with our Rank 1 booster team.
WoW Gladiator Boost Season 2 Rewards and Titles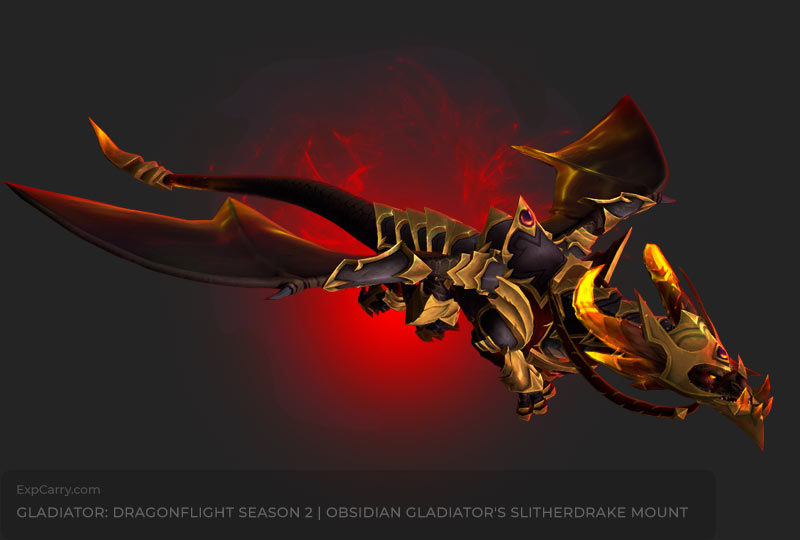 When you buy WoW Gladiator achievement boost services, you will receive some rewards. For illustration, we have listed the coolest of them below. You can read our recommendations in the previous paragraph. The following is a list of the top awards:

Additional progress during the WoW Gladiator Carry
During the execution of the order, you will receive additional rewards and progress in various aspects of the game. Each season, additional rewards remain the same, so you're sure not to miss anything. See their list below:
Honor is the currency for which you can buy and improve PvP equipment. Also, the honor received is taken on your character in the progress for Great Vault;
Conquest Points are the currency for buying the most powerful PvP equipment. With the honor, you can improve this equipment to level 424;
Vicious Saddle is a special token that can be obtained for 80 wins in a 3v3 arena with a rating of 1000 or higher. The token can be exchanged for various mounts.
Our team is ready to complete tasks of any difficulty. All the best rewards can be obtained quickly and qualitatively using the ExpCarry service. WoW arena Gladiator boost option It is perfect for experienced players with no time, as well as newcomers who have just started their way in PvP. Our players are to pay only when the task is confirmed, otherwise, the funds will be returned to the ExpCarry customer. This is your opportunity to get guaranteed a cool title and other rewards without risking anything at all.
FAQ Gladiator
How to get Gladiator title in WoW Dragonflight?

What do I get for the Gladiator achievement in WoW Dragonflight?

Why should I buy WoW Gladiator title boost in Dragonflight?

How does the Gladiator boost work in WoW Dragonflight?
Related Products
All brand and product names are trademarks or registered trademarks of their respective companies. Company, product, and service names used in this Site are used for identifying purposes only. The use of World of Warcraft ™, WoW and other trademarks and trade names is not intended to imply endorsement or recommendation. ExpCarry is not endorsed by or affiliated with Activision Blizzard, Incorporated, Blizzard Entertainment, Incorporated, Bungie, Incorporated, Amazon Games, Valve, Incorporated, Electronic Arts, Incorporated, Ubisoft Entertainment, SA. ExpCarry offers various services to improve your in-game skills, but does not sell in-game items. Other company and product names mentioned herein may be the trademarks or registered trademarks of their respective companies. Items obtained in the course of using our services are obtained without breaking the mechanics of the game in a way that is intended by the developers and/or publishers of the game. expcarry.com © 2019 - 2023. All rights reserved.