ExpCarry Blogger
Lost Ark Gold Farming Guide 2023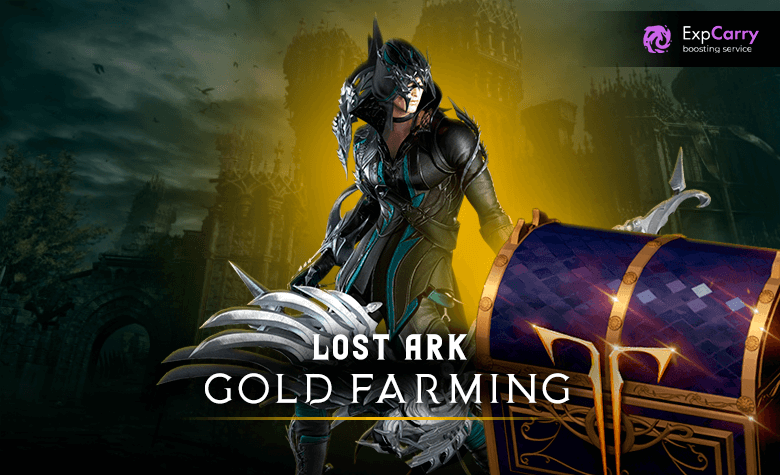 In Lost Ark, as in a hundred other MMORPGs, resources are crucial to many aspects of the game. Gold is one of the most important in this case. It can be tough to obtain it, mainly if the players have limited free time and want to play.
In this guide, the ExpCarry team wants to share with players an excellent guide to farming gold in the latest update to the game. By the way, the fastest way to get a valuable resource is to ask us for help. So, let's get started.
Gold Farming in Lost Ark
This guide will examine when and where we can farm gold after the latest update on the Lost Ark servers. Please remember that all the gold from the abyss dungeons T1 and T2 were removed. That is, it is now absent for content level T3.
Immediately a question arises: How to play this game if the gold begins to fall only with 1325 GS? On top of that, we'll have to raise it from 1302 to 1325.
Everything is more or less normal. Now we will tell, for each GS, on what place and where the money is farmed.
Permanent ways to earn
These ways can be engaged in, starting from level 50 and when you have reached Bern.
The weekly reward for completing Una's quests is that you have accumulated points when you do dailies and weeklies, then get the coins. Then exchange the cash for gold.
Islands, sometimes there are islands of adventure where you can also get gold.
This method is present in any GS — it's Chaos Dungeons. Getting into the gold or red rooms, you earn money after passing. Note that you can only get gold if you have energy. The gold will no longer drop when you run out of power, even if you hit these rooms.
Also, if you're a newbie, remember that once per legacy game, that is, for the entire account, you can get money for some activities — increasing your reputation with NPCs, Una's reputation, different collections, and so on. Try to increase these reputations or fill collections first, so there is an initial amount.
Auction
The auction opens at level 30. But you can start farming resources for it from about level 20 when you have access to crafting. Craft is the collection of grass, rabbits, and fish. On the minimap will see the location of different resources. You collect resources, put them up for auction, and get gold. This is one of the easiest ways to get a little capital to T3 to swing correctly later.
Т-3 content
Once you get 1100 GS, you can go through the Papunika storyline and then to Chaos Dungeons. You get the essential T3 equipment. You get 1302 GS. From there, we swing up to 1325. This is the first milestone, after which we can generally farm money.
1325 GS
Two new activities await us on this HS: Chaos Dungeons and Oreha's Well.
Just so you know, we need to consider the passage of Chaos Dungeons on this GS, so feel free to buy from the guides. In this area we also offer services. Ordinary costs are around 400-500 gold, and heroic costs are about 600-700. You get a lot more money than you spend.
You can also buy a walkthrough on Igresion. It will take a lot of work to pass, precisely because it will be hard to find a pack. You will need to get through if you have nasty grit. You're more likely to fall off or take a very long time to pass. That's why buying wiring is much easier to guarantee a reward.
When you go to the Guardian, no one will cheat because you always pass the Guardian twice and pay after the first pass. Pass, get, collect the drop, rerun the keepers, and pay at the last stage.
1340 GS
The only difference here is the chance to pass the dungeon without help. That is, you already have enough GS to hit the bosses usually. And if you have everyday engravings, at least one level 3 and one level 2, and know the mechanics, then you can pass the Abyss Dungeon by yourself. But, again, we don't recommend it. It's better to leave it until the next step.
1355 GS
You can already safely pass the normal Chaos Dungeon modes at this GS if you have at least one level 3 engraving and one level 2 engraving.
You should already have enough damage if players know the mechanics to pass Chaos Dungeon. Also becoming available is the fox, Yoho of Darkness, which will require outside help. You sell the crystals, get and get new gold.
1370 GS
This is the +15th first T-3 set. At this GS, you can already pass the Abyss Dungeons routine. You can generally pass the Heroic, although it is only given to some. We still suggest that you pass the normal.
The first stage of Argos opens for you. You can spend Wednesdays, Thursdays, and Fridays on the first stage of Argos and can still pass it in general. Even if you don't have the most skillful teammates, you can still pass the first stage and get some money.
But we would like to suggest at least 1 or 2 times to use help. As a result, you'll get 2 Argos gear at once, which you can further sharpen. You also get a considerable amount of yellow costume jewelry, precisely what you're missing right now. You can only get the yellow costume jewelry from dungeons or 1385 GS.
1385 GS
You open Belganus — the last keeper of the fifth page. Likewise, you need help to kill him, and as a reward, you will get yellow costume jewelry. In general, try to do it every day because they are drops of gold costume jewelry and are generally quite profitable. Also, your damage will go up a bit, and the first phase of Argos will become much easier to pass. You'll earn more gold.
As for the second phase of Argos, which have enough HS — we do not advise going. Now, on the current GS, passing Argos Phase 2 is very difficult on most Wednesdays. That is, if you grabbed a regular party on Wednesday, then yes — go yourself. However, we still recommend either the first.
1400-1414 GS
Note, not 15, but exactly 14. Why? Because as soon as you're up to 1415 GS, you stop getting gold from the dungeon you want, and this is our primary goal now.
At 1414 GS or less, if you have an average of 2 or 3 level 3 engravings, you can help other players for the money. You can go to Chaos Dungeons, get your 1.5K, and another 400-500 from each carriage. As a result, you are a week instead of 1.5K and will receive 3K, and it's very cool. Also can even pass the third stage, Argos. But with this GS, you'll probably go to the second stage of Argos. You will also get a small amount of gold.
1415+
The last stop is 1415 GS and above. You have no brakes here. You go to those dungeons that are possible. All in all, regular play begins.
1415 GS allows going to Valtan, where again, only some can pass on this GS and most likely max out. But it will be possible to pass the first stage. You will pass Argos, enter Chaos Dungeon, and so on.
After that, the regular game begins, and is it worth the base to go to 1415 GS? Yes, it's worth it. At the very least, you'll get a lot more gold weekly for Una's tasks. Previously, without cutting the dungeon, you could still argue where you get more gold — after or before 1415. Now should go higher, farm higher dungeons, and earn money every week just by passive income.
An additional way to earn currency in Lost Ark
«Which craft is the most profitable» is a highly relevant question among newcomers and more experienced players in Lost Ark. Let's figure out how to earn a lot of money with crafting. We decided to test each method to compare the income we would get.
So, today we're going to break down hunting. Reagents can be obtained in any location where hunting is allowed, then you need to choose one where the mobs will be weak or where they will not be at all, and the number of rabbits will be large enough.
We suggest that you go to Bilbrin Forest. There are a lot of animals, and the mobs are pretty soft — to put it simply, it is not very difficult. The location will suit players even with little hunting skills. Among other things, the most straightforward tools can save money on repairs. At the beginning of the method test, we had 10.5K work points at our disposal. As previously stated, there is a sufficient number of animals, so you can just run around the same place because there will always be something to eat.
A sparse competition characterizes the location, so about an hour and a half of work points have been spent. It is hard to say that it was a lot of fun, but comparing it to fishing is okay. We did not use any traps because it is, to put it mildly, unprofitable.
In the end, we will get about 600 units of various resources, which is an excellent result. After a successful hunt, we enter the auction and put everything up for sale. It's hard to say that the prices of the resources are very high right now, but it's not the lowest — this is a fact. Buy everything fast enough, in about 1.5-2 hours. The total profit on the sale was a little more than 700, minus commission.
They spent one and a half hours and 10.5K work points to earn 700. This is a low figure. For those players who have a lot of free time and like to improve their skills in the craft, it's okay.
We hope the ExpCarry team's guide was helpful and will help collect the right amount of gold. Also, please feel free to ask us for help in any case.
Related Product