New World
What need to know about game "New World"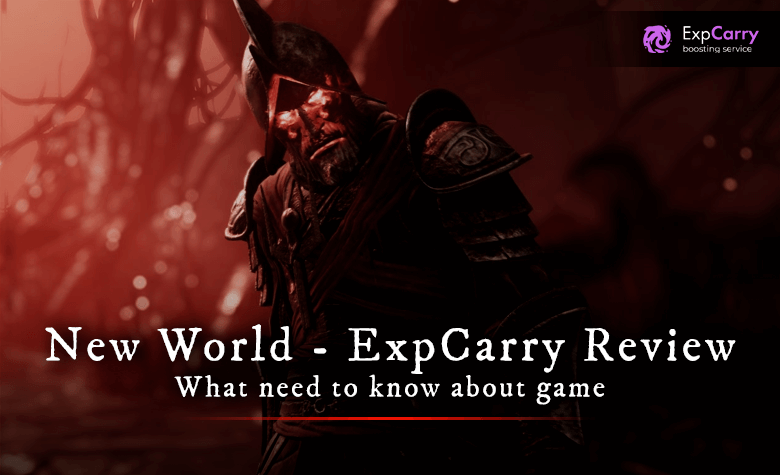 Finally, the long-awaited release game from developer Amazon took place! Project New World – a relatively new round in MMO development, a breath of fresh air for all fans of PvP/PvE content in fantasy worlds, and it's not just a new story, setting, fresh locations, and characters. The game takes place in an alternative 16th century - pirates and conquistadors era, sea battles, treasures, mighty forts, and first firearms.
CHARACTER DEVELOPMENT SYSTEM


New World is interesting because there is no class and race system in the game. Each player starts as a person without any predisposition towards this or that specialization, and can increase any of the 5 parameters in the development process:
Strength – directly affects heavy weapons effectiveness. Growth of strength gives a chance to get additional units of ore in the collection;
Dexterity – this parameter affects shooting weapon damage and, to a lesser extent, melee weapons damage. Also, trait increases skinning speed and skins taken a number from animals;
Intelligence –value this parameter determines how much magical damage a character inflicts or healing amount. Intelligence affects efficiency herb harvesting;
Focus – higher this characteristic, more often characters are able to cast spells and use various abilities even with a huge recovery time. Attribute affects the fishing skill, which is also very useful;
Constitution – affects character total health: higher it is, more damage the hero is able to take. Among other things, it improves wood gathering efficiency.
Then the player chooses any kind of weapon and armor he likes. Nobody forbids creating a healer, developing his intellect and focus, slightly increasing his build, putting on heavy armor and healing allies, being right in battle thick. Or any can develop dexterity, arm the hero with axes, slightly increase the healer's skills and fight very effectively in PvP mode with other gamers – everything in user's hands. New World is a classic sandbox game that is simply adored by users around the world.
Weapon types in game 9 and each available for two development branches, passing through which is incredibly difficult because up option only one - killing thousands of enemies. In case the chosen branch is bored, it can be changed – this requires a huge amount of currency called Azoth. That's why it is better to determine in advance the means of extermination.
NEW WORLD PROFESSIONS


Don't want to fight? Sure! There is an opportunity to lead a peaceful life as an artisan: New World has a huge number of professions, each of which is available for up. Players buy all resources from other players, create items and sell them – and go round and round until they get bored! A little about professions themselves: there are 16 of them, 4 are Gathering, 5 are Refining, and 7 are Crafting.
Among Gathering are:
Mining – gathering stone and various ores;
Skinning – collecting skins from defeated animals;
Logging – collecting wood;
Harvesting – obtaining fruits, vegetables, and fibers.
Refining includes:
Smelting – processing resulting ore into metal;
Stone Cutting – working with mined stone plus processing gemstones;
Woodworking – making different materials from wood for construction;
Tanning – final processing of leather derived from animals;
Weaving – making cloth from gathered fibers.
Crafting includes:
Weaponsmithing – weapons production for melee fighters;
Armoring – making clothing out of iron and leather;
Jewelcrafting – making accessories for any character;
Engineering – ranged weapons production, spears, and ammunition;
Arcana – making elixirs and magical weapons;
Cooking – making drinks and food;
Furnishing – making building materials, chests, and even houses for characters.
The list is truly impressive and everyone finds something to do in New World uncharted world. But remember: in contrast to many MMOs, increasing the proficiency level process here is very, very hard.
PvE and PvP SYSTEM in NEW WORLD


The New World has a number of quite interesting differences. If the essence of the PvE system has not undergone special changes, dungeons or expeditions are something interesting, if only because in each of the champions have not only fought with enemies but also to perform certain actions. Players will have to solve riddles, pass labyrinths and avoid traps. To open New World expeditions you'll need a special key – just can't get inside.
PvP mode is somewhat reminiscent of forgotten Lineage 2, but the system is much cleverer: fight all can only turn on a special mode, and with defeated enemies drop a variety of items, and the loser does not lose anything. Mass battles are represented by seizure forts and battlegrounds, where they have done a lot of different work – and this is very cool in-game terms because there has not been anything like this in a long time. There are special PvP tasks, for which heroes get gold and special factional currency that allows them to buy strong equipment items.
In short, New World – a great way to spend time in front of a monitor front, immersed in a new atmosphere. What's the best place to start, we'll tell you below.
WHERE TO START A JOURNEY TO ISLAND AETERNUM?


Once you find yourself in a new world, the question often arises: What to do? We have collected a lot of information and are ready, if not completely answer the question, then to give the right vector for every New World newcomer.
For starters, all should understand that New World is not about the story. It is there only to give a general idea, show mechanics couple and that's it. If in some games you learn a lot of interesting information while performing tasks, here – no. To speed up the process, just take a task and run at it, not really reading into what's going on – you won't lose anything.
Also, here works the principle of combining pleasure with profit. In other words, running around location, it is not superfluous to collect all available resources – they definitely are useful, because there are a lot of professions and competition among gamers is high.
Professions are very important for any hero because with their development there is an opportunity to create quite good passing items. Here are some of them, using leather armor, rifle, and accessories for level 6 as examples:
Coarse Leather Boots;
Coarse Leather Gloves;
Coarse Leather Pants;
Coarse Leather Shirt;
Coarse Leather Hat;
Flamed Amber Amulet;
Iron Musket.
Having collected such a set, it will be much easier to play.
Character development and weaponry direction should be chosen from the very beginning –characteristic points are distributed by the user, so without proper planning, you make a hero, who is simply impossible to play. As for weapons – it is very difficult and tedious to up-skill handling them. That is why at the first game stages you should choose one type and develop it. In other words, the best option – to think everything through in advance.
The main PvP bonus mode is to get 10% experience on top and the ability to collect items from the defeated enemy. According to experts ExpCarry – is not the best option from the game's beginning, because in this case, aggressive players hunt you. Constant skirmishes slow down and gather resources – it's not what you want at the start.
Concerning expeditions –the first is available from level 25 and is called Amrine Excavation. ExpCarry Game Masters strongly recommend going there – it helps understand basic interaction mechanics in-game, brings a lot of experience and useful things. First passage – for free, necessary items the heroes receive as tasks are completed.
Summing up, the ExpCarry team wants to say that New World is a game worth playing for sure. New locations, new enemies and allies, various world events and large-scale PvP, ability to choose life brave conqueror or a peaceful merchant – all content variety waiting for users in novelty from Amazon. Well, to get used to the game help our experts and the ExpCarry blog dedicated to New World.
That ends our shortlist of tips, but rest assured, we'll be back with more. To be continued…
Related Product