The Burning Crusade
WoW TBC Pre-orders is open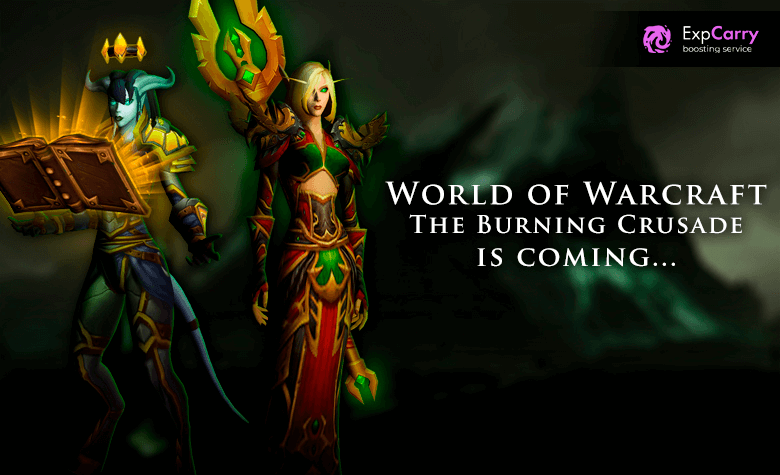 World of Warcraft TBC is coming…
For those who are in the steam tank, we remind — the Burning Crusade expansion is about to be released. So if you wanted to level up your character, get a couple of interesting things before the campaign in Outland, finish the profession, the best time than now, you cannot find. Well, and WoW boosters from ExpCarry always come to your aid in any aspect of the game.
Speaking of which, in connection with this news, there's a pre-order for absolutely everything available on ExpCarry, but more on that below.
WoW TBC leveling


First, of course, you need to level up your character to the max. Although Burning Crusade is almost out, but the process of leveling was, and still is, difficult.
ExpCarry solves the problem globally, so we HAVE opened a pre-order for WoW TBC leveling from our gamers. The options are as follows:
1-60 — classic format available to any player;
1-70 — pre-order option for those who like to plunge into the game literally from the first days;
58-70 — the best option if you took advantage of Blizzard's level upgrade service.
Oh yes, we almost forgot: Murlocks shamans bewitched our boosters, so the guys are doing a 15% discount on pre-order now using "ExpBurnig" Coupon
WoW TBC Attunement


Your character got the max level, what's next? Sure, go conquer the dungeons, but… What if they're closed? Well, they're closed for sure! But there's a way out — buy pre-order from our pros.
Buying WoW TBC Attunement not only gives you access to WoW TBC raids, but also unlocks the access to heroic dungeons:
Hellfire Rampats;
The Blood Furnance;
The Shattered Halls;
Underbog;
Slave Pens;
Steamvault;
Mana-Tombs;
Auchenai Crypts;
Sethekk Halls;
Shadow Labyrinth;
Mechanar;
Botanica;
Arcatraz;
Old Hillsbrad Foothills;
Black Morass;
Magister's Terrace.
In addition, in the process of opening access, there will be a slight increase in the level of reputation of the respective factions. About that below.
WoW TBC Reputation


There are many factions in this add-on. Each offer the player their own unique rewards, ranging from craft recipes to epic equipment. In addition, some factions in WoW TBC will offer to purchase FLYING mounts, which, incidentally, with the release of the add-on 2.4.3 available.
Furthermore, some types of reputations open up access to quest chains for powerful equipment items.
You can pre-order on our website now, which will give you 100% confidence in the rapid results, and thus in obtaining cool items at the start.
WoW TBC Mount
Is it cool to race through the vastness of Burning Crusade on a flying mount? But what if this animal is really cool and rare? WoW TBC Mount on pre-order from ExpCarry can help you with that. Our gamers do everything necessary to get your character a cool mount. Just below is a list of a few TOP items:
Ashes of Al'Ar;
Netherwing Drake's;
Reins of the Raven Lord;
Nether Ray's.
Full list of mounts on our website.
WoW TBC Professions
A new addition — new levels of professions and, of course, new recipes. But here is where the good news ends — it's incredibly difficult to up any of the professions, and even more to get really cool recipes, but… ExpCarry is ready to help you out here too. The WoW TBC Profession pre-order help you develop your skills in no time at all.
WoW TBC PvP


World of Warcraft is 50% PvP. The Burning Crusade expansion has made many changes to the existing system, opening up many opportunities for PvP players.
WoW TBC PvP pre-order is open on absolutely every aspect, from battlegrounds to arenas of every possible format. Rest assured, our pros won't leave the enemy a chance.
At the end, let's reiterate: WoW TBC is available by pre-order for absolutely all categories presented by us.