WoW Dragonflight
Demon Hunter – Best PvP & PvE Build Tree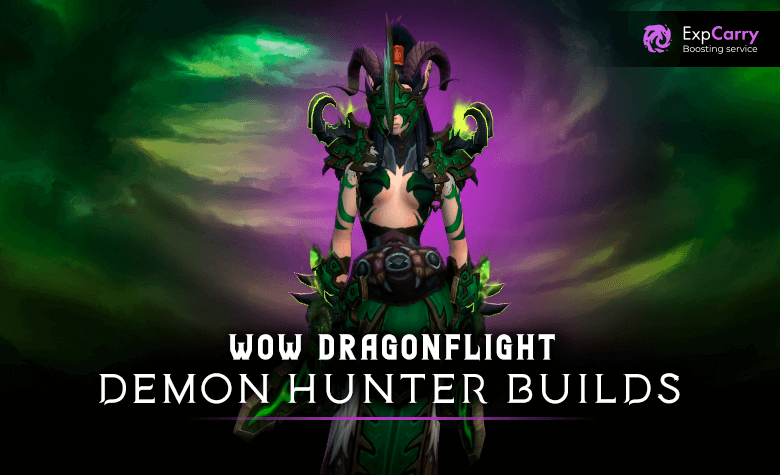 The demon hunter from the release in World of Warcraft Dragonflight is one of the few classes with only two specific talent branches available. One is designed for tanking in the PvE segment and is not used 90% of the time in PvP, and the other is designed to deal massive damage in both PvE and PvP content. The class is versatile, primary stat — being agility, the central resource — being fury, and in demand in almost every raid and battleground, so you should try to play for hunters.
Demon Hunter PvE Builds in WoW Dragonflight
Both specializations DH show maximum efficiency for many years, so do not worry that you will not be taken in any raid or dungeon-level mythic + critical run. You can achieve great results with the right skills and talents. Add to this a little training, and the development will amaze you. In patch 10.0.5, nothing has changed in the game WoW for demon hunters, and they are still as practical, especially with high stats.

Vengeance Demon Hunter PvE Build
We will first focus on the only branch suitable for the tank's role, vengeance. DH tank, in this case, not at the expense of a massive amount of armor, but due to the short cooldowns and the possibility to replenish health itself at any time. In addition, they are highly mobile and can deal with single and AoE damage, which is very important in long M+. The essential abilities with beneficial effects are Fracture, Spirit Bomb, Soul Carver, The Hunt, and Immolation Aura spell. Remember Shear, Metamorphosis, Fel Eruption, and Fiery Brand bits. Next, let's look at the passive talent tree: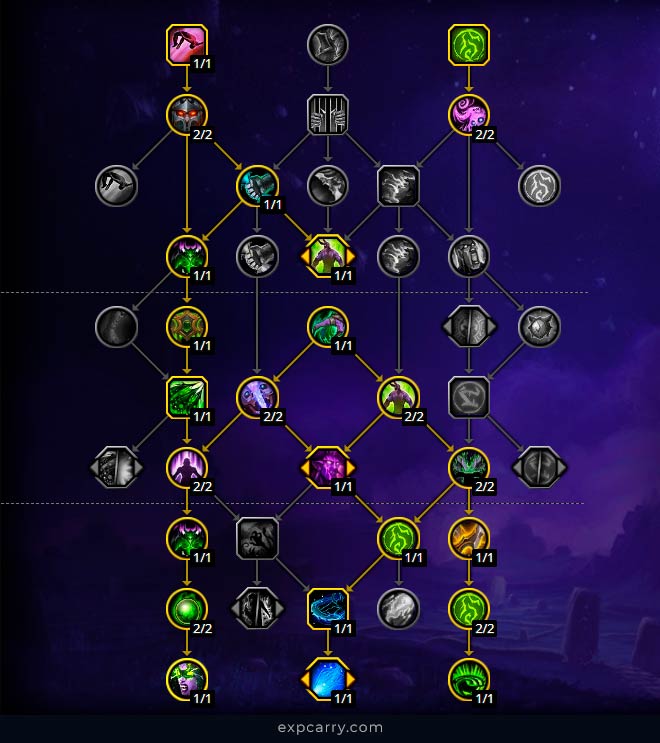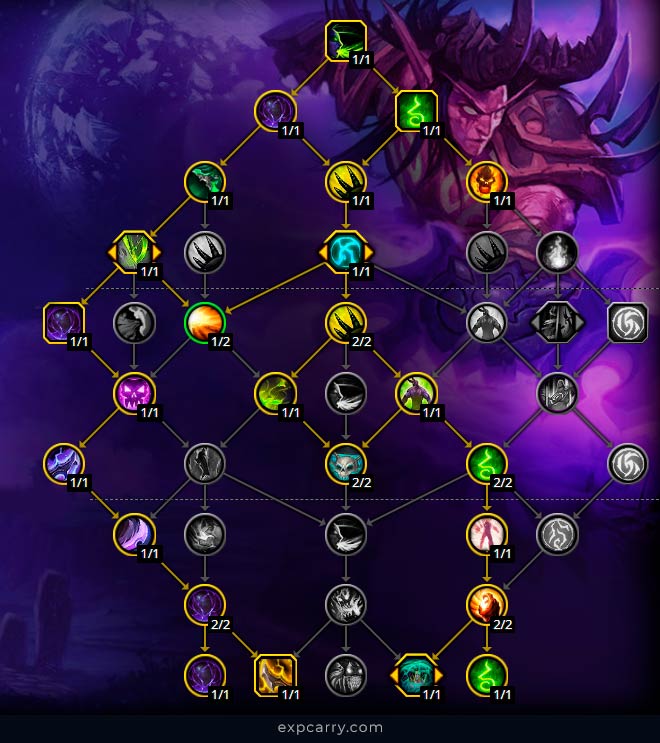 The pluses of this choice are great mobility in raids & mythic+ keys, excellent damage for the tank, and debuffs that increase damage on affected enemies. Among the minuses are the difficult choice in talents – we helped with that, weak 1-target damage, and high requirements for proper button presses.
Havoc Demon Hunter PvE Build
Next, we turn to the demon hunter havoc talent builds aimed at dealing colossal damage to enemies. The beauty of it lies in the ability to inflict constant high damage, as well as to give a burst to the team. In addition, such a fighter does not lose any DPS when changing targets, deals good cleave damage, and has a defensive button for any occasion. Eye Beam, Immolation Aura, Fodder to the Flame, Blade Dance, Vengeful Retreat, Chaos Strike, and Essence Break are solid and active spells. Let's pick the right build: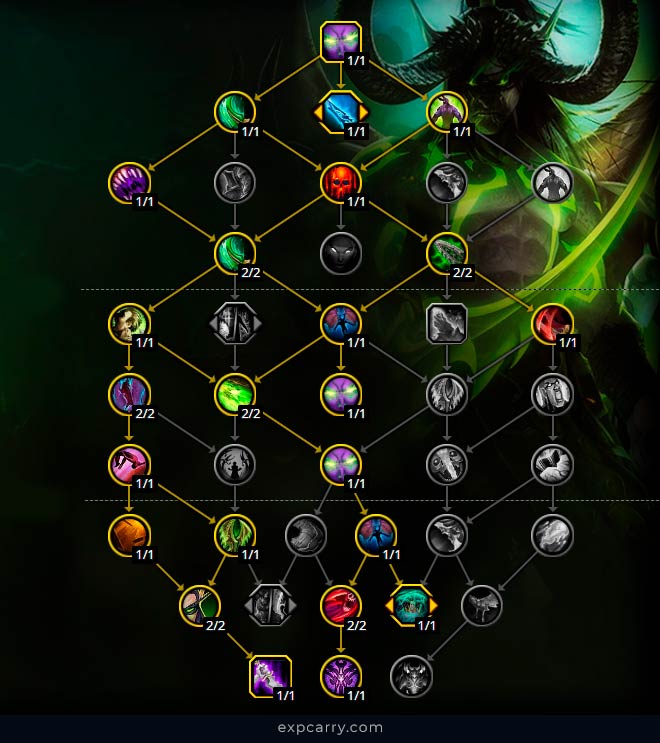 The pluses of choosing havoc include significant damage with the possibility of drilling, a lot of survivability, tremendous mobility, the ability to change targets, and AoE damage. Disadvantages include high dependence on resources, damage drawdown in the absence of cooldowns, and the presence of very situational talents.
Demon Hunter PvP Builds in WoW Dragonflight
We asked for a demon hunter class in PvP content only in the specialization havoc, which we will discuss. DH has been popular in PvP since its first appearance season because it has incomparable melee single damage, survivability, and even the option to crowd control the enemy. Over time, the situation has leveled off, but the class is still trendy among fans of arenas and battlegrounds. Eye Beam, Immolation Aura, Blade Dance, Chaos Strike, Glaive Tempest, and Essence Break are priority abilities depending on the build tree. Not to forget Chaos Nova, Fel Eruption, Sigil of Misery, and Imprison. Below is a form for conquering PvP content: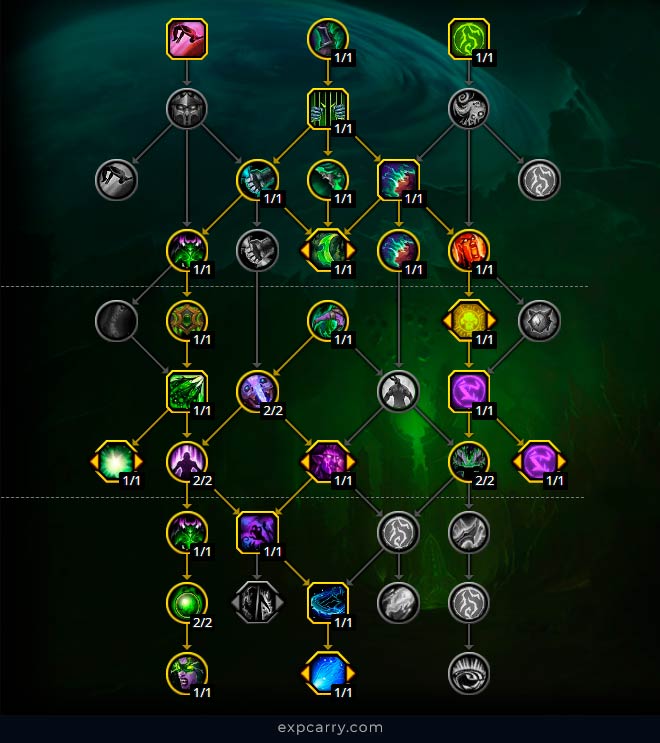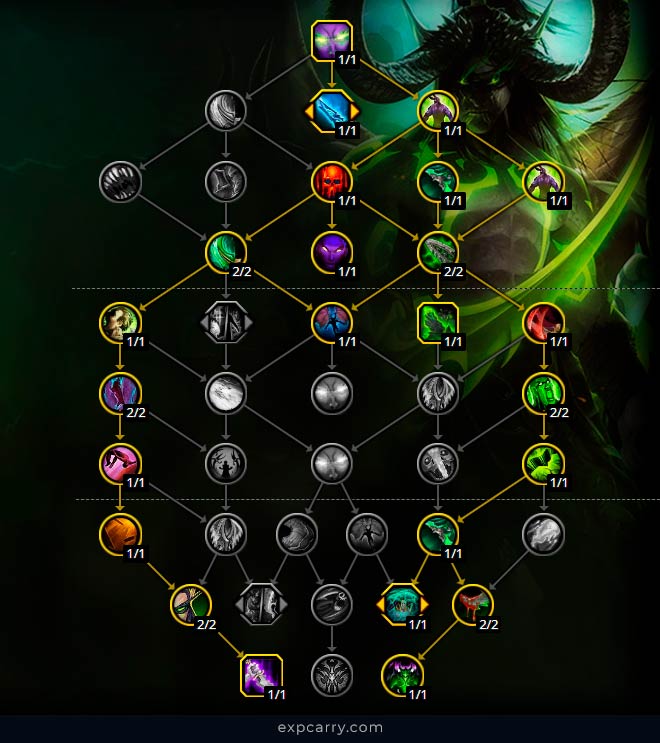 The advantages of playing on the havoc demon hunter include a high mobility tool, muscular single target damage, the masses of valuable skills, and the ability to inflict permanent and explosive damage when necessary.
We hope our little part of the guide was helpful and that you found something valuable. We wish the best of luck to every player in the vastness of Azeroth. The havoc demon hunter and vengeance demon hunter manual will be constantly updated and supplemented, talent build actualized, and any critical cooldown listed. We'll also help you pick the proper rotation, tell you about all the spec options, and teach you much more. Stay tuned. We will be glad if you add our blog to your bookmarks. If you have any questions, you can write to support.
Related Product