ExpCarry Blogger
Lost Ark Scrapper Guide: Heavy Martial Artist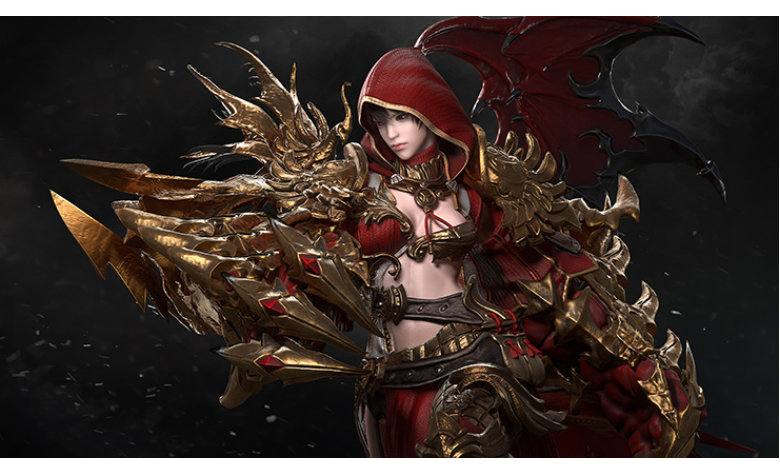 Scrapper comes up with an unusual gauntlet to launch some crazy attacks on enemies. It is a martial arts class, so you will be using your fists and legs to deal most of the damage. It is an advanced class, and you will need some time to master its skills. Compared to other martial arts classes in Lost Ark, scrapper is slow, but it offers various other buffs to make it a player's favorite.
While other characters need mana for special effects, scrapper needs chi, and efficient gameplay requires you to have a balanced approach in terms of skills. Completely destroy a specific part of the big boss to make it slow and let other teammates do their thing while the boss is unconscious. This article features information about the best scrapper skills, engravings, and gems.
Identity Skills
Shock energy and stamina are the identity skills of a scrapper, and you have the option to combine both for maximum benefit. Perfectly balanced energies will give you the best attack power and attack speed. The stamina is best for generating shock aftershocks, while shock damage is best to generate stamina.
You can switch between these identity skills to check which works best for which situation and adapt your gameplay accordingly. If you are a duel lover who wants to fight face to face with enemies, use shock skills. For stealthier gameplay, go with stamina skills. This class is recommended for new players as it features simple skills and all the other stuff.
Best engravings
As with all the other advanced classes in Lost Ark, scrapper also comes up with two class engravings, but you need to tackle the endgame content before getting your hands on them. These engravings impact your future performance and overall gameplay, and pro players advise to choose them correctly for this reason. Here are two engravings along with complete information about them.
Shock Training engraving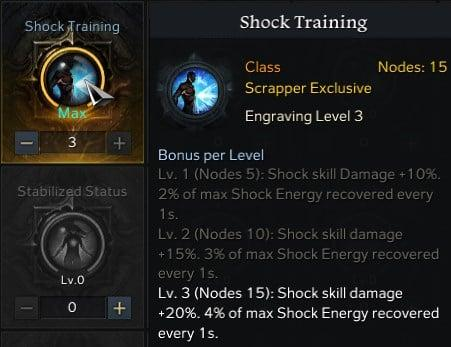 If you are looking for an engraving that will boost up the overall damage-dealing ability of the scrapper, the shock training engraving is the best choice. It automatically loads your shock energy with stamina while improving the damage from the shock skill. Below is the complete breakdown of the shock training engraving with each level.
Level 1: Boost shock skill damage by ten percent and recover two percent shock energy after one second
Level 2: Boost shock skill damage by fifteen percent, recover three percent shock energy after one second
Level 3: Boost shock skill damage by twenty percent, recover four percent shock energy after one second
Taijutsu engraving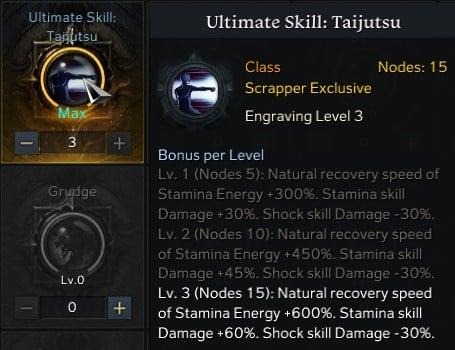 As a martial artist, you have got other things to worry about, along with mobility. If you want to deal damage to enemies, you have to bring them to the melee range, which is pretty difficult as they can deal damage to you from the same distance. But the Taijutsu engraving is going to change everything by letting you deal damage to enemies with each attack instead of the single bursting damage.
Level 1: Increase natural recovery speed by three hundred percent and stamina skill damage by thirty percent
Level 2: Increase natural recovery speed by four hundred fifty percent and stamina skill damage by forty-five percent
Level 3: Increase natural recovery speed by six hundred percent and stamina skill damage by sixty percent
Best gems
If you have unlocked your abilities by leveling up the scrapper, but you aren't satisfied with current stats. You can use gems to further enhance those abilities, and Lost features a large number of gems for various purposes. Some of these gems will increase your damage-dealing abilities, while other abilities will help you with stamina management by reducing your stamina consumption. You can buy more gems from the market with lost ark gold.
All Scrapper Skills
If you don't know anything about skills and how to pick skills based on your gameplay, here is everything that you need to know about all scrapper skills in Lost Ark. Get power leveling services from MMOPIXEL if you are stuck at some place or want to avoid grinding. So many players choose to buy Lost Ark Gold online on MMOPixel.
Charging Blow: Charge the gauntlet to strike
Crushing Smite: Launch three shockwaves at the same time
Fierce Tiger Strike: Knock enemies with two swift blows
Dragon Advent: Attack enemies with focus fire energy within ten meters
Judgment: Jump into the air to deal damage to enemies and knock them
Roundup Sweep: Land a diagonal punch
Instant Hit: Stun enemies for three seconds with a flashing strike
Death Rattle: Knock enemies with condensed energy and deal some damage
Earthquake Chain: Shake the ground to damage and knockdown enemies
Critical Blow: concentrate energy into the gauntlet to overcharge it and deal damage
Chain Destruction Fist: Hit earth to launch enemies into the air within a distance of three meters
Battering Fists: Throw a punch followed by six more punches
Continuous Push: Use this skill to immune from paralysis and stack it up to ten times
True Rising Fist: Deal fifty percent more damage with a rising forward attack
Iron Cannon Blow: Deal damage with consecutive punches
Shredding Strike: Gather all your energy in arms to deal damage with punches
Chain of Resonance: Deal damage to enemies with a shockwave
Undefeated Dragon King: Attack on the desired location while a black dragon follows you
Blast of Ruination: Land a powerful hit with your gauntlet to knock enemies back
Related Product