WoW Dragonflight
New 9.1.5 Patch WoW Shadowlands - All Changes & Updates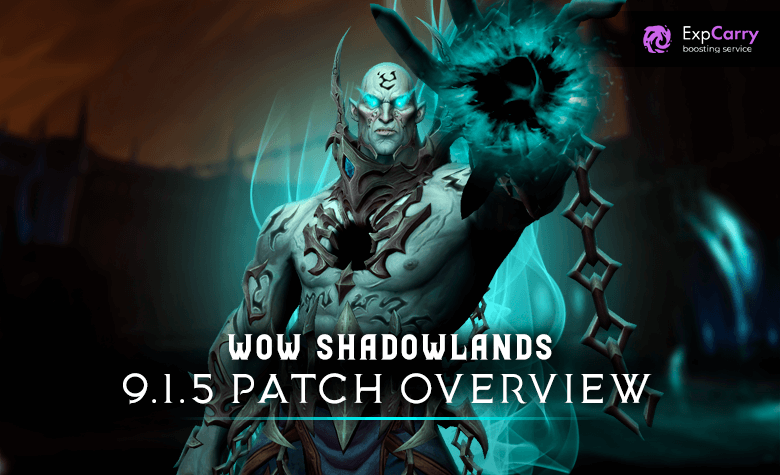 It's no secret to any player that WoW Shadowlands has been difficult from the start, even for experienced heroes, let alone newcomers. All restrictions sort from Blizzard, dungeons, and raids with overly strong opponents, giant time and resources spent on covenant fame progression, and much more.
In patch 9.1.5 Blizzard have heard the player's requests and are ready to meet them. The game has a huge number of changes that are designed to make the game as comfortable and friendly as possible, not only for newcomers, but also for alternate characters.
If numerous reviews and conversations on forums are to be believed, the patch promises to put everything in its place. The World of Warcraft Shadowlands game features what it should have been from the beginning, as well as new «features» designed to diversify content. Going a little further, patch 9.1.5 is a perfect match in terms of balance and innovation. Especially for you, ExpCarry has prepared an overview of everything that will be added.
Renewed Covenant System WoW 9.1.5


According to tens of thousands of players, the ability to choose a WoW Shadowlands covenant at any time is something that should have done from the add-on beginning. A simple example: many classes play in three specializations, but for each of them in one situation or another benefit a certain covenant, which you can't just change. In Patch 9.1.5 Blizzard introduced capability.
To choose a World of Warcraft Shadowlands covenant, you must achieve maximum renown level in any of them. Any rewards earned be saved and used at any time in another covenant. Such an opportunity will be available for each character in account as soon as one of them fulfills the required condition. In addition, if one playable character has already completed the entire covenant task chain, everyone else skips it and immediately gains fame along with a maximum number of soul ties.
A nice bonus is that anima now be turned in directly in Khortia regardless of faction chosen, making collection process quicker. Anima stashes for alternate characters also appear.
Change classes in Shadowlands 9.1.5


Redesigns affect some talents and associated guides, as well as selected factions skills. ExpCarry team has compiled the data into a table for clarity:
Class
Change
Warrior

Harrowing Punishment (Venthyrs) — in half boost.

Arms:

Merciless Bonegrinder (Conduit) — 100% gain.

Fury:

Hack and smash — in half amplification.

Protection:

Sinful Surge (Venthyrs rune-cutting effect) — extends Avatar's action by 2.5 sec. when applying to condemn.


Druid

Four new travel form are now available.
Well-Honed Instincts available to all specializations.
Adaptive Swarm (Necrolord skill) — Flight radius grown to 50 m and swarm fly to a friendly target if its action time on a friendly target is over and there are no hostile targets within 50 m.


Priest

Festering Transfusion (Necrolords) — 100% boost.

Holy:

Divine Star (talent) — grow by 40%.

Discipline:

Divine star (talent) — 40% gain.
Contrition (talent) — up healing by 15%.
Shadow Covenant (talent) — up healing by 10%, decrease mana cost by 10% and decrease action to 7 sec.

Shadow:

Surrender to Madness — action increased to 30 sec.
Physic Link (Talent) — now deals 60% damage from Mind Blast.


Mage

Gift of the Lich (Necrolords) — power grower by 100%.


Monk

Gift of the Lich (Necrolords) — boosted by 100%.


Hunter

Some new animals chosen by pets.
Flayed Shot (Venthyr's skill) now deals an extra hit when applied. Also has a 15% chance to reset Killing Shot's recovery.


Demon Hunter

Sinful (Venthyrs' skill) — Recovery will be 45 sec.
Blind Faith (Kyrian runes) increases versatility by 1% and replenishes 10 Rages when absorbing a Small Soul Shard during its action.

Havoc:

Dancing with Fate — Damage rise by 65%.


Paladin

Righteous Might (Necrolords) — Damage growed by 400% and healing reduced by 50%.
Blessing of the Seasons (Night Fae ability) — Blessing of Spring now increases created healing by 15% and received healing by 30%, while Blessing of Winter reduces attack speed and enemy movement speed by 5% for each overlap, and its damage increased by 40%.


Rogue

Septic Shock (Night People) — effectiveness up by 50%.


Death Knight

Shackle the Unworthy (Kyrie's skill) — power reduced by 10%, but now with 100% probability applied to nearby foes when triggered.
Withering Ground (Night Fae) — rised by in half.
Impenetrable Gloom (Venthyrs) — is increased by 50%.

Blood:

Debilitating Malady — boosted by 600%.


Shaman

Elysian Dirge (Kyrians) — enhanced by in half.


Warlock

Impending Catastrophe (Venthyrs skill) — Radius increased by 60%, triggering at appearance moment, and the periodic effect is more accurately applied to hostile targets.
Decimating Bolt (Necrolord's ability) — timed to apply in 2 seconds.
Scouring Tithe (Kyrian's talent) — instant and periodic damage increased by 20%, and application will be 1.5 sec.
Languishing Soul Detritus (Kyrian's rune cut effect) — raised to 45% increase to critical hit probability, applies a 33% grow to movement speed and a 15% grow to critical hit probability when Cleansing Sacrifice (Kyrie's talent) ceases.

Changes are plenty, the best way to experience them is to up a couple hero's alternate and play them. We in turn are happy to help you feel in a new role — just buy WoW Shadowlands level boost from ExpCarry service.
Changes in Dungeons WoW Shadowlands 9.1.5


Good news for all WoW Shadowlands m+ fans — some modifiers weakened:
Bolstering — mobs' buff effect is now in for 20 seconds, instead of infinitely, as it was before.
Necrotic — debuff now lasts 6 seconds instead of 9.
Raging — up in mobs strength is now 50% instead of 75%.
This is a great opportunity to boost your RIO, with which our experienced key wizards are ready to help at any time, you only need to buy boost WoW Shadowlands mythic+ dungeons.
Another great news is that Legion Time walk added to the game, where in addition to usual dungeons there also be mythic+ World of Warcraft Legion. Gamers visit:
Black Rook Hold;
Darkheart Thicket;
Vault of the Wardens;
Eye of Azshara;
Neltharion's Lair;
Court of Stars.
There probably will be a separate RIO that considers only the Legion add-on m+ dungeons. Reward levels are similar to the current one, but only WoW Shadowlands items will be available in the great vault.
A new affix, Infernal, has been added specifically for the Legion Time Travel mythic+ dungeons. Next to 3rd bosses appear beacons, once activated, battle with the mini-boss begins, you can't skip them — enemies still appear when the boss itself is attacked.
Speaking of Legion, it's impossible not to mention another added option — Mage Tower will return, as it was in patch 7.1.5. As before, for passing the test, unlock WoW Legion weapon and armor sets.
Finally, the most hotly debated piece of news. The game removes AoE cap, characters will be able to deal damage to an unlimited target number, but a penalty introduced. Each subsequent enemy after the 5th takes less damage.
New PvP Ranking System in Shadowlands 9.1.5


There is only one global change, and it is a smoother growth in equipment items levels sold by NPCs. The ExpCarry team has put everything together in a table.
| | | |
| --- | --- | --- |
| Rating | Title | Gear Item Level |
| up to 1000 | Unranked | 233 |
| 1000 | Combatant I | 239 |
| 1200 | Combatant II | 242 |
| 1400 | Challenger I | 246 |
| 1600 | Challenger II | 249 |
| 1800 | Rival I | 252 |
| 2000 | Rival II | 255 |
| 2200 | Duelist | 259 |
| 2400 | Elite | 259 |
This is a great opportunity for PvP enthusiasts to not only hone their skills, but also to get great stuff. If for some reason you cannot do that, use the ExpCarry boosting service. Simply buy WoW Shadowlands rating boost from our game experts and wait for the result.
Simplifying the game for newcomers and alternate characters
As previously stated, WoW Shadowlands is very unfriendly to newcomers and alternate character creators, but in patch 9.1.5 everything has changed dramatically. Blizzard has added a huge number of bonuses that make life much easier. In addition, the ability to skip opening quest chains and covenant storylines, there is an extensive range of options available for gamers.
Alternate characters now buy chests containing a required equipment item from Khortia, and the ability to purchase and transfer chests from WoW Shadowlands mythic+ dungeons also be added — allowing for the quickest possible upgrade of a twink's equipment.
Newcomers pleased with the simplification of many mechanics and up rewards for passing the Merchant, grow the chance to fall out recipes for legendary items, easier access to allied races and much more. We, as a boosting service, offer to buy WoW Shadowlands fast leveling boost so that you immediately enjoy the game and do not spend dozens of hours on leveling.
The rest of the information on the patch is technical and is of little value — all can find it on your own. We're not saying goodbye to you — to be continued.
Related Product